YouTube AdBlocker For Chrome to Stop All Kinds of Ads
YouTube Adblocker Chrome can help you get rid of all YouTube ads, including skippable, non-skippable, overlay ads, and bumper ads. enjoy video streaming on YouTube without being bothered by annoying ads.

"It works really great and perfect no more annoying ads popping up in a middle of the video nor at the beginning of the video just instantly skipped and gone great extension "
"Other adblockers might work better, but for me this works well enough at a FRACTION of the size. With this extension, ads are visible for a fraction of a second before they are hidden, but 15 Kb compared to hundreds of Kb or over 1 Mb for other yt blockers "
It's working pretty okay for me. You see the first frame of some ads but they instantly get skipped and all non video ads get blocked too. But there is a problem, when it blocks an ad before the video i can no longer see any related videos!
YouTube Chrome Extension
Key Features
AdBlock for YouTube is a very useful time-saver extension which enhances your video streaming experience on YT by blocking ads. Here are some of the main features of YT AdBlocker.
How To Use YouTube Adblock Extension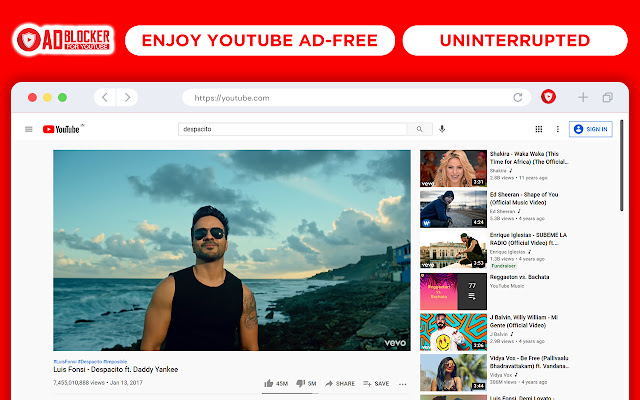 Frequently Asked Question's
Get The YT AdBlocker Chrome Extension Link On Email